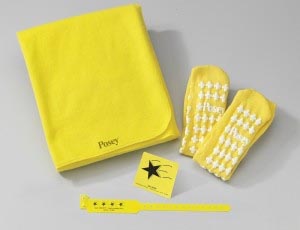 Posey Fall Management Kit
Falls can happen to anyone at any age and they are more common as we get older. Working out what causes falls and putting them right is the key to making your patients feel safer and more confident.
Causes of falls:
Not enough exercise, which can result in weak muscles and feeling off balance.
Not drinking enough fluids causing dehydration.
Problems with your eyesight.
Some medicines can lower your blood pressure too much and make you feel dizzy.
Some medicines can affect your balance or make you drowsy.
Drinking too much alcohol.
Problems with your bowels or bladder.
Clothes which don't fit properly.
Shoes or slippers which don't support your feet properly.
Falls are common in your home as well as in hospitals. They can result in physical injuries such as broken bones, which can lead to hospital admissions. You need to make sure your home environment is fall protected by following the tips below.
Tips for avoiding falls at home:
Get your medication reviewed regularly by your doctor.
Get your eyesight checked regularly, at least every two years.
Keep physically active and exercise every day.
Ensure all rooms in your home are well lit, especially on stairs and landings.
Ensure shoes and slippers fit well and are appropriate for what you are doing.
Take good care of your feet and toenails.
Be aware of worn of loose carpets and rugs.
Keep those things you use regularly within easy reach to avoid unnecessary risks.
Keep electrical leads and clutter away from where you weak.
Remember it is important to:
Stay active and take regular exercise.
Look after your feet and footwear.
Participate in recommended falls treatments.
This will reduce the risk of injuries, reduce the need for you to be in hospital and allow you to be independent and gain more confidence. If you would like further support on how to protect yourself from falls, we are more than happy to help.
Next week is National Falls Awareness Week and we will be posting daily tips and tricks to help you reduce falls on our twitter page. Make sure you are following our page@ReptonMedical to find out more.