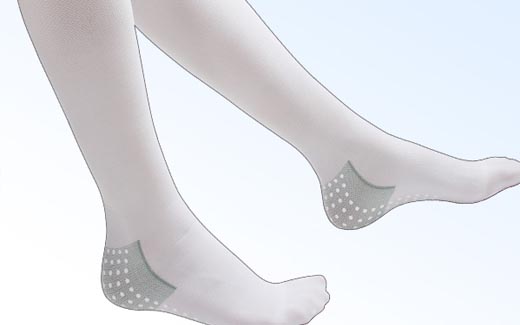 BRAND NEW TO THE MARKET- TREAD SAFE ANTI-EMBOLISM STOCKING
Repton Medical is a UK supplier of Fall Prevention & Protection Products. Our range of high quality products offer great value and are extremely competitively priced, helping you to SAVE MONEY and provide the BEST in patient safety and care.
Why not try our brand new Tread Safe Anti-Embolism Stockings for use before, during and post surgical procedures, complete with an inspection opening to facilitate skin and for circulation checks. Additionally, our Anti-Embolism Stockings are designed to helpreduce slips, trips and falls in hospital departments or in the home environment by combining anti-embolism stockings with non-slip technology.
Available in either knee or thigh lengths
Colour coded by size for ease of use
Designed for comfort
Latex Free to prevent skin irritation
Silicone bands to help keep the product correctly positioned
Inspection opening to facilitate skin and circulation checks
Grip underneath
We offer an array of other fall management products at extremely competitive prices including:
Our ever popular colour coded range including non-slip socks and slippers, fall bracelets, magnets & signs which can help staff quickly and easily identify a high fall risk patient.
Our fall crash mats in various sizes and designs which can help to reduce the impact of falls by up to 85%.
Our range of hipsters with discreet protective cushioning pads available in many different styles and colours, from trousers to briefs, helping to protect against hip fractures.
Our fall sensors and alarms which alert staff to a high fall risk patients movements, helping to prevent falls.
Our full range of bed safety products.
If you would like to find out more information on this product or to request a sample please leave a comment below! Alternatively, please email us atmarketing@reptonmedical.co.uk.