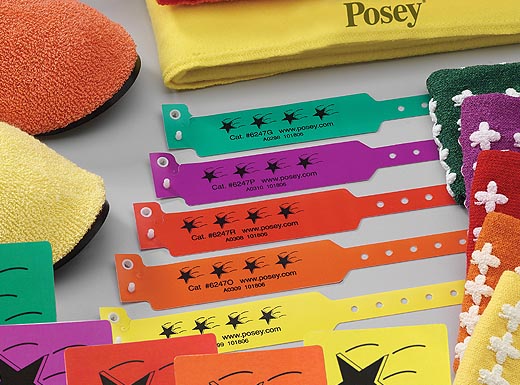 Falls can happen to anyone irrespective or age or medical condition. Over 65% of falls may cause no serious harm however the consequences of falling can be serious, ranging from distress and loss of confidence, through to injuries, pain and loss of independence.
Many falls are caused by a combination of things like slipping or tripping, people with existing conditions such as low blood sugar, ear infections, reduced mobility from arthritis, age, or medication.
As part of our blogs fall awareness month, we have identified our top 5 selling fall products which have proven to help people who are at serious risk from falling.
The Posey non-skid socks offer a quick and easy way of identification for fall risk patients while helping to reduce the risk of fall related injuries. They can be easily incorporated into any Fall Management and/or Fall Prevention protocol. The sock has grip on both the top and bottom offering double protection even if the sock become twisted while in bed. Available in 5 different colours and 2 size ranges.
The Posey colour coded fall management slippers are for patients requiring non-skid footwear to help prevent falls. Can be used (by colour) to indicate to nursing staff the level of risk and identify high risk patients. Available in 5 different sizes and colours.
3. Tread Safe Anti-Embolism Stockings
The Tread Safe Anti-Embolism is complete with an inspection opening to facilitate skin and for circulation checks. Additionally, our Anti-Embolism Stockings are designed to help reduce slips, trips and falls in hospital departments or in the home environment by combining anti-embolism stockings with non-slip technology. Sizes and lengths from XS to XXL and Knee high to Thigh high.
4. Posey Fall Precaution Bracelets
The Posey fall precaution bracelets are lightweight, non-stretch polyester material with an adjustable snap closure. This product provides a non-intrusive way to identify high fall risk patients. Why not purchase the bracelets alongside the socks and slippers to create a fall management package? Staying with the same colour helps to provide a fall management colour coding system within your hospital wards.
5. Posey Hipsters EZ-On Brief with High Durability Pads
Posey Hipsters EZ-On Brief with High Durability Pads helps to prevent broken bones or hip fractures. Hipsters reduce the impact of a fall and lower the likelihood of a hip fracture. The Posey hipster hip protectors feature impact absorbing foam pads over the critical hip fracture area that help protect against fall related injuries. They are soft, comfortable pads which help to improve compliance versus hard-shell products. Removable pads allow for cost effective pad replacement.
Our high quality products to help to minimise falls and this is backed by our extensive education and resources which we use to support care providers. To find out more on our fall management solutions, subscribe to our newsletter and follow us on Twitter for up to date series of articles and information.
To find out how we can help you manage falls in your environment, ward or in the home, please get in touch and ask for Jaki Burton at
Tel: 01909 724890
Email: jaki.burton@reptonmedical.co.uk