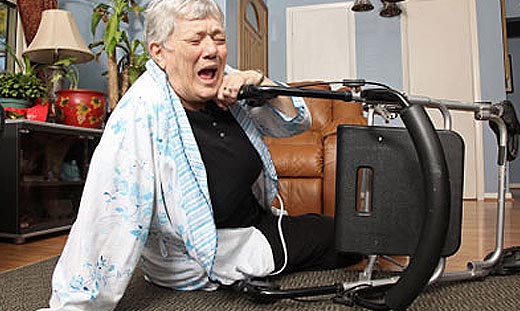 Dementia describes a series of symptoms that occurs when the brain is damaged by a disease such as Alzheimer's or a stroke. The symptoms of dementia may include memory loss and even difficulties with thinking, talking and problem-solving. There are currently an estimated 800,000 people in the UK living with dementia and the number of cases is increasing significantly each year. By 2040 this figure is expected to have doubled.
If a person has dementia the risk of a fall occurring increases dramatically and their ability to fully recover afterwards decreases. There are many reasons why someone could fall, for example a visual or cognitive impairment or an environmental factor such as a trip hazard. Falls are the leading cause of hospital admissions for trauma in elderly people, they can take a serious toll on an elderly person's quality of life and independence.
80% of people living in care homes have a form of dementia or severe memory loss problems. This means they can become prone to falls and have a high possibility of causing harm to themselves. Since 2008, the first week of Fall/ Autumn each year is known as Fall Prevention Awareness Week (September 23rd – 29th, 2015). The aim of this event is to raise awareness among elderly adults, their families and caregivers, health care professionals and the general public about the seriousness of falls. Last year over 12 million people were reached during the activities of Fall Prevention Awareness Week and this year is estimated to be even bigger!
There are a number of things that can be done to reduce the risk of a fall or slip occurring:
Ensure that rugs and carpets are securely fastened to the floor.
Use non-slip mats and grab handles in the bathroom to minimise the risk of slipping when coming out of the bath or shower.
Wear non-skid socks or slippers such as our Posey Fall Management Socks.
Remove any clutter around the home and use brighter lighting so hazards can be seen more easily.
Ask for help with tasks that may lead to an injury such as moving large items or reaching for something on a high shelf.
Fall Prevention Awareness Week happens once a year but fall prevention is a daily battle for many families, healthcare professionals and elderly people. By raising awareness and providing guidance and tips, the aim of Fall Prevention Awareness Week is to see the number of injuries start to decline as soon as possible