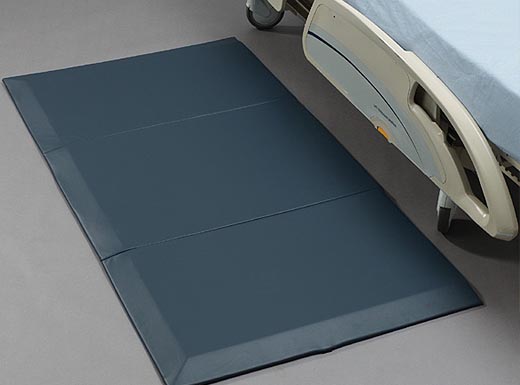 Despite decades of research and development efforts to reduce falls, it is still the most commonly reported adverse event in hospitals. As part of a study conducted by UAMS Medical Centre, they evaluated the effectiveness of implementing Posey Floor Matting for fall injury protection in the acute care setting. The clinical trials were conducted in Neuroscience and stem call transplant units.
The results from the trial indicated that:
UAMS Medical Centre saved $1.27 million in costs related to injuries resulting from falls.
60% of patients who fall in their hospital land on a floor mat.
They consistently outperform the mean nationally and are a now a Top Performer in preventing injury falls.
Overall the implementation of floor matting is cost effective and a sustainable mechanism for preventing falls in the acute care setting. Portability of the matting allows for injury protection whether the patient is in the bed or out of bed to a chair. Dispelling nursing concerns and providing clinical decision support using an evidence based fall program were key to reducing variability in how and when floor matting is implemented.
At Repton Medical we offer the Posey Beveled Floor Cushions along with other premium lines which help to reduce the risk of fall-related injuries by absorbing up to 85% of the impact from a fall. The matt features bevelled edges on three sides, which helps to reduce tripping hazards and accommodates walkers and wheelchairs. The one-inch thick foam creates a low profile edge and the bottom features a non-skid material for easier ambulation. It is in a wipe-clean vinyl and folds into thirds for easy storage in the ward. The Beveled Floor Cushion is tested according to the ASTM test protocols for shock absorbency. Using this cushion decreases the risk injury to less than 1% bedrail height for feet-first falls.
To find out more information on our full range of Posey Floor Mats please contact our sales team on 01909 724890 or by email sales@reptonmedical.co.uk.
Source- Reducing Fall Related Injuries Using Floor Matting
Davis, Dees M., Hester Amy L.
UAMS Medical Centre, Department of Nursing