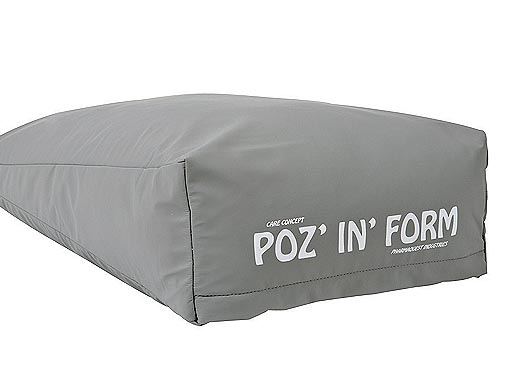 Bedsores are easier to prevent than to treat, and changing your position is key to preventing pressure sores. These changes need to be frequent, to avoid stress on the skin, and to minimize the pressure on vulnerable areas. Other strategies include taking good care of your skin, maintaining good nutrition and exercising daily.
As correct positioning is crucial, consider these tips below:
• Reposition yourself frequently.Change your body position every 2 hours.
• Adjust the elevation of your bed.If your hospital bed can be elevated at the head, raise it no more than 30 degrees as this helps to prevent shearing.
• Use specialised cushions to position your body.
Our NEW Repton Healthcare product range provides positioning cushions to support and comfort long-term bedridden people. Our brand new POZ' IN' FORM range consists of a bi-elastic fabric with a breathable cover to offer maximum breathability. The filling is made from thin microfiber which perfectly fits the body shape, ensuring optimal pressure distribution and significant reduction in friction and shearing.
We offer various forms, sizes and models of the POZ' IN' FORM which can offer multiple solutions:
• Hand Pressure Relief Cushion
• Triangle-Shaped Cushion
• Abduction Cushion
• Semi-Lateral Positioning Cushion
• Pressure Relief Cushion
• Heel Cushion
• Cylindrical Cushion
• Half Ring Cushion
• Semi-Fowler Cushion
• Ring Cushion
• Universal Cushion
• 1-Heel Pressure Relief Cushion
All cushions come with the option of either a Pharmatex or Lenzing FR® cover, both are entirely removable and washable.
The Pharmatex bi-elastic cover is recommended for use in hospitals or within the community. Pharmatex is pleasant to touch and very soft and comfortable on the skin. Its smooth and supple surface is very easy to clean. The Lenzing FR® cover is coated with a waterproof and breathable polyurethane film. This allows moisture absorption along with elasticity and flexibility. This cover is particularly suitable for problems regularly observed in classic positioning.
For more information on our range of POZ' IN' FORM positioning cushions, please visit our new healthcare website at www.reptonhealthcare.co.uk. Alternatively, please contact our sales team on 01909 724890 or by email sales@reptonmedical.co.uk.