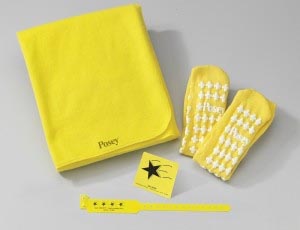 Around 35% of over 65's will fall in the space of a year, and that figure rises rapidly to approximately 50% for those aged 80 and over. Falls destroy confidence, increase isolation and diminish independence. They can happen to anyone regardless of age or medical condition. Many falls are caused by a mixture of factors such as slips and trips, reduced mobility, age or being on medication.
The Posey Deluxe Fall Management Kit contains 4 items that will help you to identify a patient or resident in a healthcare facility or nursing home who is at a high risk of falling. The kit comes in a choice of colours including yellow, green, orange, red, or purple which makes it easy to highlight which products to select when dealing with falls.
Our most popular item in the kit is the Posey Non-Skid Socks which offer a quick and easy way of identification for fall risk patients while helping to reduce the risk of fall related injuries. They can be easily incorporated into any Fall Management and/or Fall Prevention protocol. The socks have grip on both the top and bottom offering double protection even if the sock become twisted while in bed.
The second item in the kit is the Posey Fall Precaution Bracelets which are lightweight, non-stretch polyester material with an adjustable snap closure. This product provides a non-intrusive way to identify high fall risk patients. The Posey Falling Star Magnet is also included in the kit which can be placed alongside a patient in hospital to highlight their vulnerability to falls. It can be placed at their bedside or outside their room for example. The final item is the Posey Fall Management Blanket which can be used to discreetly identify a high fall risk patient whilst providing comfort to the individual.
Our mission is to help you protect your patients or residents from falls. We offer practical and economical fall prevention solutions for elderly people and those at risk from falling. To receive your free sample pack of the Posey Fall Management kit please contact us atmarketing@reptonmedical.co.uk or visit our website to see our full range of Fall Prevention products.