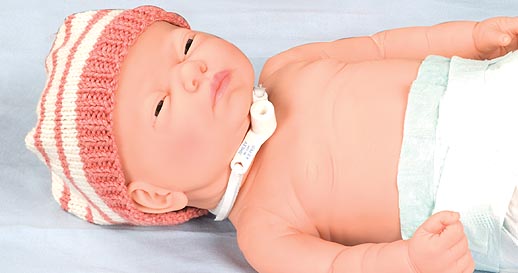 Today we are looking at a popular Posey product called "Foam Trach Ties" which is a one-piece collar that helps to secure tracheotomy tubes. This product is used on patients who require respiratory therapy and is designed to hold a tracheal tube or oxygen cannula in place. They are also designed to help prevent removal, extubation, and decannulation during severe coughing spasms.
The Trach Ties can be used on all ages, whether the patient is new born or a full grown adult. One of the most important facts about the Trach Ties is that they are single patient use only and should be disposed of if they become soiled. Otherwise an infection can greatly increase the recovery time of the patient. You should replace them on a regular basis but how often they are replaced will depend on the policy at your facility. Please make sure you follow you facility policy before using Trach Ties on a patient.
Before applying a Trach Tie, be sure to check the product for cuts, broken stitching or any torn parts. Any damaged parts can cause injury to the patient and should never be used. Simply dispose of the broken trach tie and replace it with another. Also when applying, please check that the hook part of the Velcro fits firmly onto the white fuzzy backing, if it fails to attach properly, please discard and replace. All Trach Ties should fit securely and loose ones may cause problems in the patient's treatment.
The Posey Trach Ties can be used to secure a Tracheal Tube to the neck or they can be used as an Oxygen Cannula support applied around the back of the neck or over the top of the head, you can read the fitting instructions for both on our website via the Foam Trach Tie product page.
If this product is something your facility is considering using but you would like further information or a trial please contact us on our contact page for free samples. We are more than happy to help you implement this product into your facility.