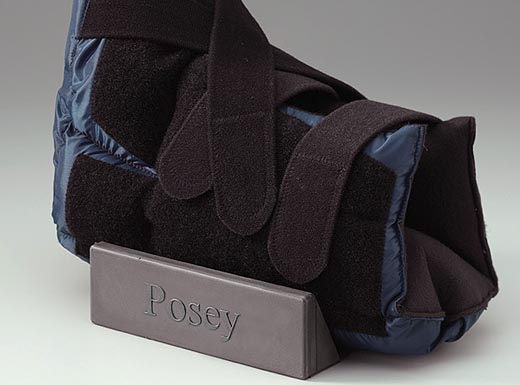 The incidence or heel pressure ulcers range from 19% to 32% in acute care facilities. Patients with a fractured hip and open reduction with internal fixation have a 45.1% probability of developing a partial-thickness (Stage I-II) heel pressure ulcer.
There are several known factors that increase a patients risk of developing a heel pressure ulcer, including:
Inadequate/malnutrition
Advancing age
Abnormalities of circulation
Sensory deficiency
Immobility
Major surgery
Multiple health problems
Dehydration
Friction and shear forces
Diabetes
Peripheral vascular disease
Hip fractures
Low albumin levels/anemia
Obesity or low body-mass index
The Anatomy of the Heel
Lacks fat-filled fascial interstices to absorb the compressive forces of prolonged pressure or shear.
The blood supply is poor and there is no underlying muscle to distribute pressure.
Prolonged pressure can lead to ischemia.
In order to reduce yours costs and prevent heel pressure ulcers, discover the new Pro-HeeLx from Posey which is designed to float the heels above the bed surface. The durable straps help with foot drop functionality, whilst the Ortho-Wick inner-liner manages moisture and provides comfort for the patient. The product has a 2" heel lift which helps to isolate the heel and the large opening helps to ensure adequate ventilation and cooling. The outer fabric is made of breathable nylon, allowing moisture and heat to migrate away from the foot.
It is not just the patients in hospitals who are at risk of pressure ulcers; it can also affect the elderly in care homes who are immobile for extensive periods of time. Those with conditions that affect the blood flow, such as type 2 diabetes, are at much greater risk of pressure ulcers. The incidence of heel ulcers can be reduced using a total-patient care approach and heel offloading devices. Wearing a Posey Pro-heeLx is a form of wound management will help to prevent the cause of pressure ulcers through its lifting device.
If you would like to see a full clinical study on the Pro heeLx you can view or download the study "Descover the Posey Heeling Power" in our Clinical Studies section, or alternatively call our sales team for further information.